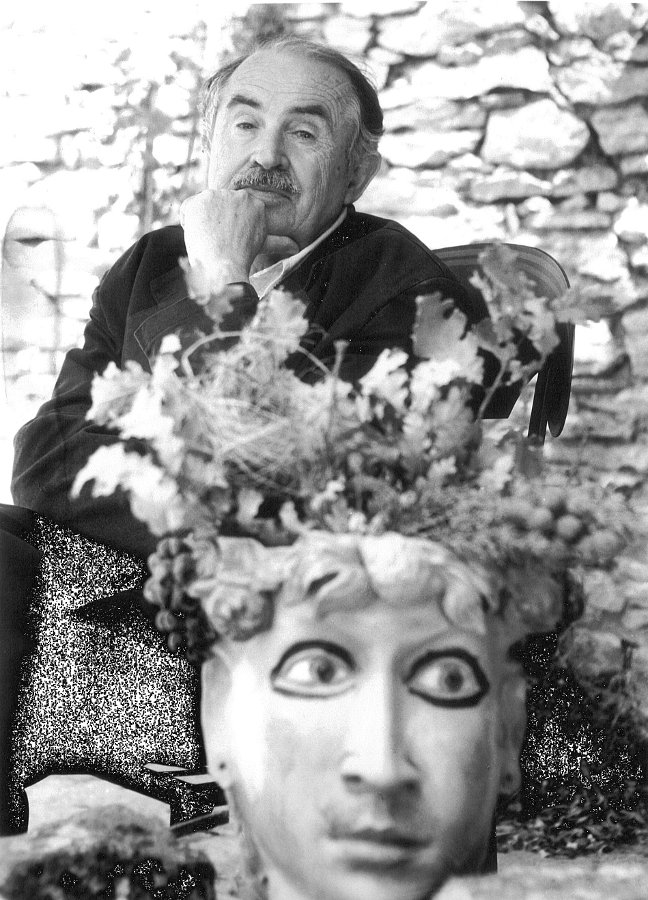 "When I was young, I started making small watercolors. Then I found myself in a prison camp and the word took over. I think that being a poet is my greatest desire. And there is always poetry behind everything that I do…"
TONINO GUERRA, internationally renowned poet, screenplay writer and artist, was born on March 16, 1920 in Santarcangelo di Romagna, where he passed away on March 21, 2012 aged 92.
The youngest of four children, Tonino was the son of a fishmonger father and an illiterate mother (whom he would later teach to read and write). During the Second World War, he was deported to Germany and interned in a prison camp where he discovered his vocation as a writer. His fellow prisoners asked him to tell stories in their local, Romagnolo dialect and from these sprang his first work, a collection of poems entitled I scarabócc (The Cockroaches, but also Scribblings, 1946). Guerra moved to Rome in 1953 to pursue a literary career and went on to write more than 50 volumes of poems, short novels and memoirs, winning critical acclaim and numerous prestigious awards.
It was during the 1950s that he began writing screenplays, soon becoming a leading influence on European film as it moved from Neorealism to stylization in search of a new language to reflect the changing times.
Guerra worked with most of the great names of Italian cinema, from Federico Fellini, Michelangelo Antonioni and Vittorio De Sica to Francesco Rosi, Elio Petri, Mario Monicelli and the Taviani brothers. His familiarity with metaphor, and with the compressed and fragmentary images demanded by verse, made him a natural collaborator of other auteur directors including Russia's Andrei Tarkovsky and Greece's Theo Angelopoulos.
Guerra was perhaps best known for Fellini's Amarcord, which clinched the 1975 Oscar for best foreign language film and was also nominated for best original screenplay. Guerra collaborated on a number of other Fellini movies, including E la Nave Va (And the Ship Sails On, 1983) and Ginger and Fred (1985). The screenwriter's relationship with Antonioni was equally enduring and he worked on nearly all of the director's films, including the cult, Oscar-nominated Blow-Up.
During a career spanning more than half a century, Guerra wrote some 120 screenplays, earning three Academy Award nominations and numerous honorary awards including lifetime achievement awards at the Venice Film Festival in 1994, the European Film Awards in 2002 and the David di Donatello Awards (the Italian Oscars) in 2010.
In 1984, Guerra returned to live in his native region of Emilia-Romagna, assuming a role as steward of its rural heritage. While settling in the medieval hilltop town of Pennabilli, he also spent long periods in Russia, a country that was to prove a vibrant source of inspiration to him in his later years.
When he was not writing, Guerra turned his hand to art, producing a steady flow of paintings, drawings, sculptures and ceramics that are valued for their poetic simplicity. The new permanent museum, Nel mondo di Tonino Guerra (In the world of Tonino Guerra), showcases Tonino's prolific artistic output as well as his influence on local arts and crafts.